Editorial - April 2023
Edito
Temps de lecture : min
Nest of ashes*
 A bipolar world is continuing to take form, and the strategic cooperation sealed between China and Russia is a reminder of its adversarial nature. We are witnessing a confrontation between the United States and China that is multifaceted and has moved the centre of the world to the Pacific zone. While the war in Ukraine has strengthened transatlantic ties and re-energised NATO, it has also brought about a realisation, borne out by the votes on the UN resolutions, of the lack of widespread adherence to Western "truths". In fact, quite the contrary. A good illustration of this is the increasing number of applications registered by the Shanghai Cooperation Organisation, some of which are unexpected, such as that of the Saudi kingdom.
The strengthening of China and Russia's "no-holds-barred" partnership may seem a logical step given the length of the border they share. But over and above geography, the United States' policy of containment against China in both science and technology also explains Beijing's supportive stance towards Moscow. The prospect of benefiting from the quality of Russian engineers and know-how in scientific, civil, and military matters is likely to encourage China to support its neighbour's war effort – a factor as decisive as the future supply of hydrocarbons by land, safer than sea routes, on which embargoes are easier to enact.
« The formation of two global blocs is accelerating and leading to rational rapprochement, such as that between Japan and South Korea or between Iran and Saudi Arabia. »
It also has major consequences on the economic sphere, structurally anchoring inflation for a long period and disrupting the strategies of international companies. The latter have benefited for several decades from a historical opening up movement. Globalisation has enabled them to benefit from commodities, available capital, lower production standards, a plunge of labour costs and the emergence of a global market. However, this configuration is gradually disappearing with the global decoupling, and corporate strategies will have to undergo a major transformation with regard to production processes and destination markets. From now on, companies will find it harder to take part in the "global conversation" and to develop a multi-alignment approach. Binding choices will have to be made at the cost of abandoning a global geo-economic ambition in the hope of existing within one of the two world orders.
* "Le Nid de Cendres" (Nest of ashes), a play by French author, director and actor Simon Falguières, describes a world split into two universes: that of men and that of fairy tales. Both ignore each other and are in peril...
This document is prepared by Covéa Finance, a portfolio management company approved by the Autorité des Marchés Financiers under number 97-007, incorporated as a simplified joint-stock company with a capital of €24,901,254, registered with the RCS Paris under number B 407 625 607, having its registered office at 8-12 rue Boissy d'Anglas 75008 Paris.  This document is produced for information purposes only and cannot be considered as an offer of sale or investment advice. It does not constitute the basis for any commitment of any kind, nor does it constitute a strategy assessment or any recommendation for investment in financial instruments.  It contains general and non-personalized opinions and analyses designed by Covéa Finance on the basis of figures which it considers to be reliable on the day of their establishment according to the economic context, but whose accuracy and validity are not guaranteed.  The opinions expressed in the document may be amended without notification.  Covéa Finance cannot be held responsible for any decision taken on the basis of information contained in this document.  This document is the intellectual property of Covéa Finance. Any Use (defined below), reproduction or distribution of all or part of this document must be the subject of prior authorization by Covéa Finance. The addressee of this document is aware of and accepts that the numerical data used to establish general and non-personalized opinions and analyses may be subject to the acquisition of rights vis-à-vis third parties. Consequently, the encrypted data may in no case be the subject of any Use by the recipient of the document without the prior acquisition of the necessary rights directly from the third-party holders of these rights. Furthermore, the addressee of this document is aware of and accepts that Covéa Finance will not be responsible for any use made of said encrypted data and will assume all the consequences vis-à-vis the third-party holders of the rights associated with this data.  "Use" means, and is not limited to, the manipulation of encrypted data, distribution, redistribution, integration into an information system or into documents of all types.
Written by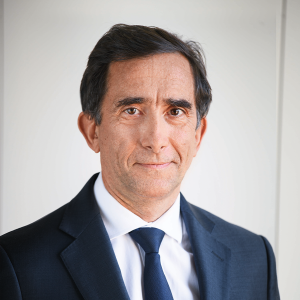 Francis JAISSON 
Deputy Director-General in charge of all Management, Marketing, Negotiation and Research
April 14, 2023