Commitment & ESG
Environmental, Social and Governance (ESG) criteria have been part of our investment process for several years now
Our ESG approach runs through our entire value chain. We see ESG as a complementary means of controlling risk in our portfolios, complementing and enriching the traditional view of investment based on financial, accounting and stock market criteria.
                                           4 politics frame our ESG approach
Engagement policy linked to ESG investor
ESG in practice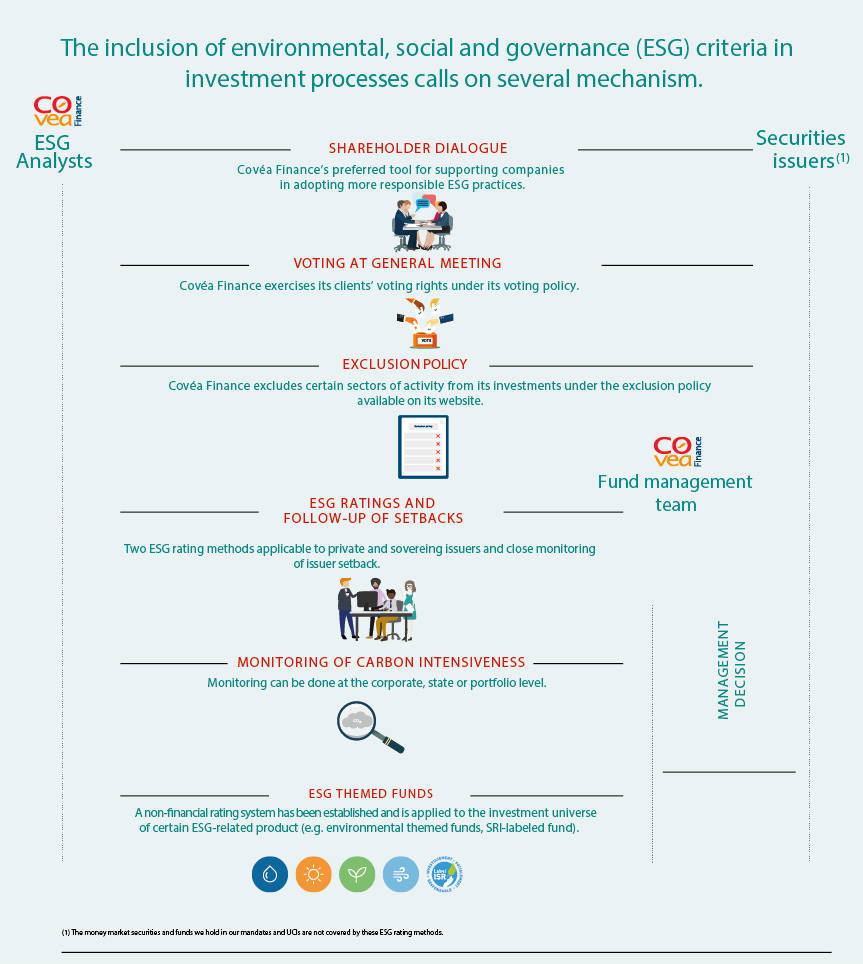 Shareholder dialogue
We consider direct dialogue with companies to be an essential means of promoting better governance and more responsible practices.
We engage this type of dialogue with companies we consider to be "core", that is to say the companies that form a foundation for our long-term investments, and with companies that can be included in environmental funds.  This shareholder engagement strategy is designed to be constructive, endeavouring to confront companies with the most substantive challenges for them and for the sector while making them aware of the need to improve their level of transparency in non-financial matters.
All of these dialogues are based on an analysis of the companies' performance on the social, environmental and governance levels and their compliance with current or future regulations, with the ultimate result that they are able to determine the opportunities, areas to be developed and risks revolving around an issuer.  
Voting at General Meetings
The purpose of the General Meeting is to enable dialogue between the shareholders and the management. The GM is thus a special, legally required framework for shareholder commitment and democracy.
We vote at all the General Meetings of the high-priority companies where we have voting rights, and we sometimes cast a negative vote.
A negative vote is an opposition vote. It can be a vote "against" a resolution approved by the Board of Directors, but can also be a vote "for" a resolution not approved by the Board.
To find out more about our Voting Policy
Implementation of our exclusion policy
Covéa Finance's exclusion policy, in line with the AFG recommendations on banning the financing of sub-munition weapons and anti-personnel mines (APM), excludes all direct investment in shares or bonds of companies involved in controversial weaponry:
sub-munition weapons and anti-personnel mines as defined by the Ottawa Convention (1997) and the Oslo Convention (2008) and signed by France;
bacteriological and/or chemical weapons.
In addition to the standard exclusions, we have also undertaken to exclude tobacco companies and companies that generate more than 5% of their direct sales in the gambling and betting sector. 
We also exclude from our investments: 
Energy companies with over 30% of their electricity production generated from coal (i.e. thermal coal), with the exception of those that have made a clear commitment to reduce this proportion below the 30% threshold by 2025.
Companies deriving over 30% of their turnover from coal.
In general, we prefer shareholder dialogue with companies to exclusion as a means of promoting more responsible practices.
To find out more about our Exclusion Policy
ESG appreciation and follow-up of controversy
As part of the ESG project, we have developed two internal methodologies for rating sovereign issuers and private issuers respectively. 
We have defined criteria for each of the cornerstones: Environment, Social and Governance, which are then subdivided into what we consider to be the fundamental indicators common to all private issuers. And we have done the same for sovereign issuers.
By consolidating the ratings according to indicator, then criteria, we obtain a positive, neutral or negative rating for each of the three cornerstones: E, S and G. 
A sudden drop in a rating can trigger an alert to management and may be followed up in more detail via the shareholder dialogue process.
Our contribution to the energy transition and climate indicator
We have chosen to publish our asset portfolio's carbon intensity on a yearly basis. Monitoring can be done at the corporate, State or portfolio level. 
CO2 intensity of Covéa Finance's portfolios by asset class in 2019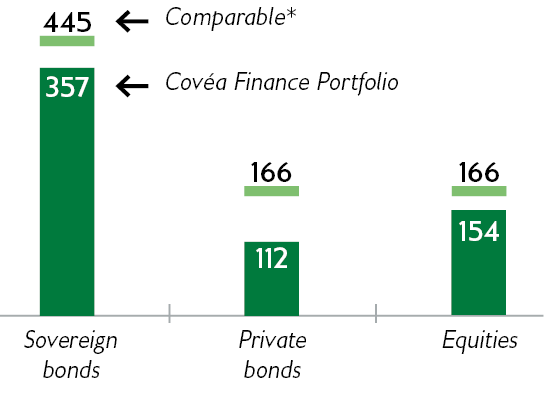 Source : London Stock Exchange Group (ex-Beyond Ratings), Covéa Finance
* The market comparable, as provided by the London Stock Exchange Group, corresponds to the members of the OECD for the Sovereign Bonds pocket and to comparable market indices for the Equity and Private Bonds
Our reports
Pursuant to Article 173-VI of law no. 2015-992 of 17 August 2015 relating to the energy transition for green growth (LTECV) and its implementing decree no. 2015‑1850 of 29 December 2015, Covéa Finance has published an annual ESG report since 2017. 
Read the 2019 report
For entities subject to reporting obligations, the law provides for an eligibility threshold of €500 million in assets or balance sheet size. This threshold determines the nature and content of the duty of information.
At the end of 2018, the open funds strictly falling within the eligibility thresholds enacted by the implementing decree were: 
Our environmental and SRI product lines
A range of funds was created in 2018 at the conclusion of a cross-disciplinary project initiated in 2017. This product line is based on a long-term vision of the environmental issues and is divided into four funds:
Covéa Aqua
Covéa Aeris
Covéa Solis
Covéa Terra
In 2018 and 2019, two Covéa Finance funds also obtained the SRI label:
Covéa Actions Solidaires
Covéa Flexible ISR
To find out more about these funds: